An overview of where to go and what's on offer in Rwanda...
As a country home to a diversity of ecosystems and a rich presence of history and culture, a trip to Rwanda offers something for everyone. Its clean capital, Kigali, (named as Africa's cleanest city), is a historical hub and homes a number of memorials that remind visitors of the country's horrific genocide that took place more than twenty years ago. In contrast, the memorials represent the work and achievement that Rwanda has made since then by today, offering a safe, stable and desirable tourist destination.
Volcanoes National Park
The Volcanoes National Park is home to the critically endangered mountain gorillas and the golden monkeys. Located on the western border of the country, Volcanoes National Park is the Rwandan section of the famous Virunga Mountains and plays a vital part in homing some of the only 800 remaining mountain gorillas in the world today. Although permits for gorilla trekking are not cheap ($1,500 per person per day), the experience is truly unforgettable and often high on the bucket list. The park is only a two-hour drive from Kigali and with many properties offering comfortable accommodation and a variety of activities aside from gorilla trekking, it is definitely a memorable destination. Read more…
Nyungwe Forest
Rwanda is not regarded a top destination when it comes to game viewing, but there are a couple of destinations to consider if you are not desperate to see the Big 5. Nyungwe Forest sits in the south of the country and homes habituated chimpanzees and 12 or so other primate species (including black and white colobus monkeys). The forest is also a haven for birders paradise, with over 300 species to be spotted in the treetops on guided bird walks. Read more…
Akagera National Park
Located in the eastern border of Rwanda, homes a variety of wildlife including elephant, zebra, hippo, crocodile, giraffe, antelope and many species of bird. Although the wildlife is slowly increasing in Akagera National Park (seven lions were introduced and observed in 2015), the game viewing is not as reliable as parks in neighbouring East African countries such as Tanzania and Kenya. Its location (two-hour drive from Kigali) means that day trips from the capital are popular and something to consider if you are not combining a safari in another country. Read more…
Lake Kivu
Rwanda is landlocked and as a result, does not have a coastline or beach destination. However, on the western border of the country sits Lake Kivu, Africa's sixth largest lake. Although a little less idyllic than the white sand beaches on say, Zanzibar Island, Lake Kivu is situated between Volcanoes National Park and Nyungwe Forest, making it a great destination to relax in the midst of a Rwandan safari. There are direct flights from Kigali to Nairobi and from here, destinations such as the southern Kenyan coast (Diani beach/ Mombasa) or Zanzibar Island can be reached with an additional connecting flight. Read more...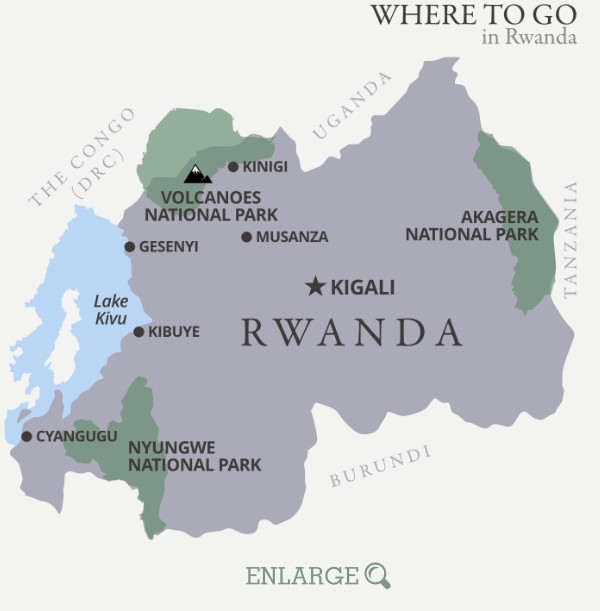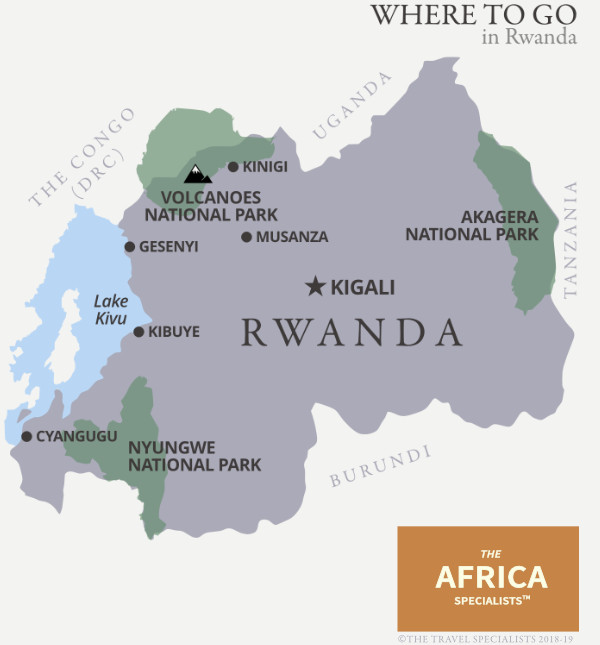 At a glance.... Rwanda
Size 26,338 km²
Location East Africa
Recommended time 3+ nights if gorillas are the main reason for the visit
Time to visit All year but the June-October window is the best for gorilla trekking conditions
Safari Activities Gorilla trekking, game drives, tea plantations visit, city tour
Topography Volcanoes National Park, dense forests and woodlands, open plains, large lakes, clean cities
Further reading...
Planning a trip?
We can help:
Fully tailormade itineraries
Guaranteed best price or price match
Personal knowledge of everywhere we sell
Personal service, 24/7
We're ATOL bonded
It's FREE!
Call us direct on:
UK: +44 1525 840 149
US: +1-917-336-2937