An overview of where to go and what's on offer in Zambia...
Referred to as the 'wild' and 'authentic' Africa, Zambia offers an incredible safari experience with, arguably, the best guiding in all of Africa! While Zambia may not be the obvious choice for those looking for a safari trip, it is definitely a country to consider! Its national parks such as the South Luangwa, the Lower Zambezi and Kafue, offer exhilarating game viewing, activities and guiding rival to its competitor safari destination choices.
Victoria Falls
As well as an unforgettable safari experience, another of Zambia's major attraction is the infamous Victoria Falls, or as they call it locally, the "Mosi-oa-tunya" (meaning the Smoke that Thunders). First discovered in 1855 by David Livingstone, the magnificent waterfall today attracts thousands of tourists each year and in our opinion, it is the perfect way to start or finish your safari trip! Read more…
South Luangwa National Park
With reliable sightings of the elusive leopard, and a range of activities including night drives and exhilarating walking safaris, most guests spend an average of four to seven nights in the park to experience an unforgettable safari. Guests usually split their time between two camps and areas in the park and we highly recommend staying in at least one bush camp for a rustic and wild experience! Read more…
Lower Zambezi National Park
Second (or on par) with the South Luangwa is the Lower Zambezi National Park. With the mighty Zambezi River flowing through the park, game viewing activities are water and land based. With a selection including canoe trips, fishing, boat trips, night and day game drives and walking safaris, guests staying here will certainly not have fall short of things to do! Alongside a wealth of activities, one of the best things to do in the Lower Zambezi is to relax in the peaceful camp and enjoy an 'armchair safari' with a gin and tonic in hand… watching the incredible wildlife come to drink along the riverbank! Read more…
North Luangwa National Park
This is a park known for its wild, untouched and 'Africa as it once was' feel. Often referred to as simply the 'north park', North Luangwa is sat north of the South Luangwa National Park in eastern Zambia, and is half the size than its neighbour, at 4,630 square kilometres. Sharing the same ecosystem as south park – bordered by the dramatic Muchinga Escarpment to the west and the Luangwa River to the east – the main difference between the two parks is that the North park is truly remote, with only three camps and a handful of visitors at one time. Read more…
Kafue National Park
Located in the centre of Zambia is Kafue National Park, and at a size of 22,400 square kilometres (approximately the same size as Wales), Kafue is the country's largest national park. Although it is a lesser-visited area, Kafue homes a variety of areas and plains, offering diverse landscapes, geography, birding and wildlife. Read more…
Liuwa Plain National Park
Located in the very west of Zambia is the most remote and secluded national park in the country - Liuwa Plains. Meaning 'plains' in the local Lozi language, the vast grassland is home to the second largest wildebeest migration on earth (after East Africa). An impressive 47,000 or so wildebeest migrate from the Greater Liuwa Ecosystem into the park, their movement dependent on water, grazing, fire and human establishment. Read more…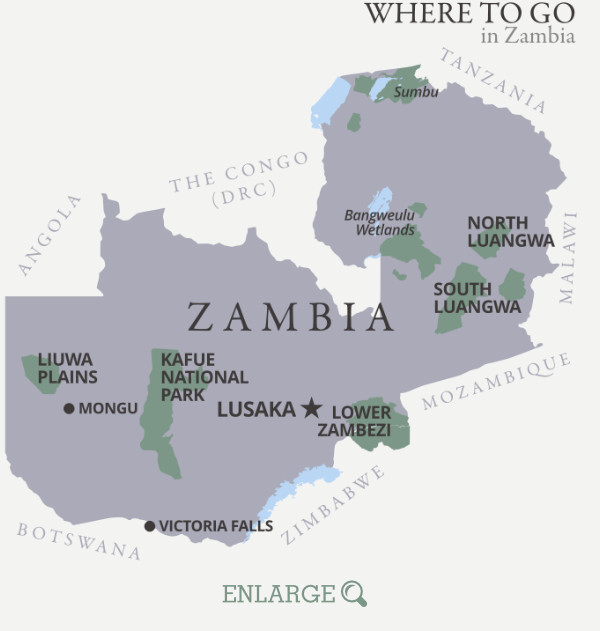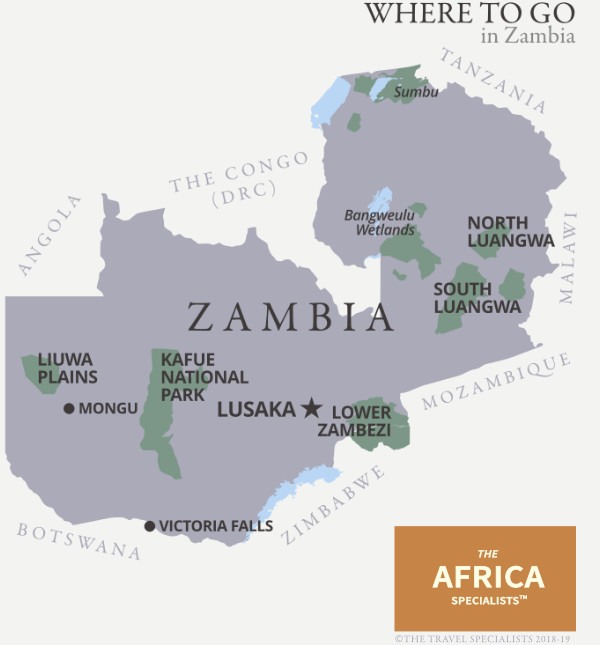 At a glance.... Zambia
Size 752,618 km²
Location Southern-central Africa
Recommended time 10+ nights for a full circuit
Time to visit Best between July and October for safari but Victoria Falls can be visited throughout the year
Safari Activities Game drives, walking safaris, Victoria Falls, canoe safaris, river cruises
Topography Open grassland/Acacia scrubland, dense woodland, Victoria Falls
Further reading...
Planning a trip?
We can help:
Fully tailormade itineraries
Guaranteed best price or price match
Personal knowledge of everywhere we sell
Personal service, 24/7
We're ATOL bonded
It's FREE!
Call us direct on:
UK: +44 1525 840 149
US: +1-917-336-2937