Our quick guide for what we would recommend packing for safari
As a land of mountains, plains, jungles and beaches, East Africa has a huge variation of temperatures and topographies. It is, therefore, well worth discussing the variations in the areas with your safari consultant for exactly what will suit you…but below are a few of the "must haves" that we pack every time we head out! (also have a look at our "When to travel" guide for the various areas as this will give you a good indication).
Safari packing list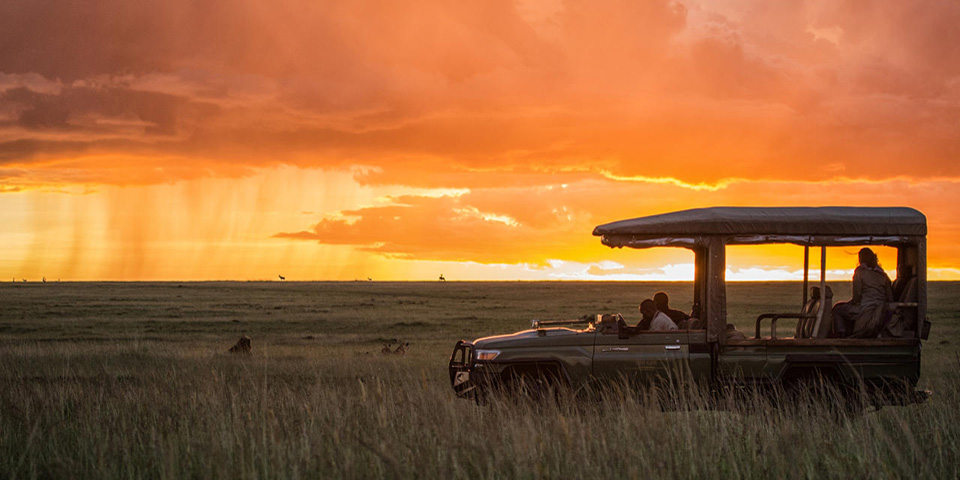 Camera
The first thing that we pack every time! Heading out to Africa without a camera really is missing out on an opportunity of a lifetime. It is true that there is an argument to say that you don't want to spend your entire time looking through a lense at the game as it takes away from the experience…but, in our experience, when you start to look at Africa as a photographer, with the different light shades and extraordinary animals, it only adds! For more information on cameras, lenses, and where it is possible to rent equipment for your trip, please ask one of us.
Binoculars
Again, one of the first things that we put into our luggage as, especially when trying to see a leopard, or looking at the markings of an eagle, it is often not possible to see many features with the naked eye. On the whole, we find that the most versatile and most portable are the 10x42 magnitude…but that is only us!
Floppy, broad-rimmed hat
An absolute essential piece of equipment. Great after a couple of hours in the morning when the sun is really starting to kick in! As we discuss in the health section, the sun in the tropics is notorious and, bundling about in vehicles, is very deceptive.
Shorts
Bit of a no brainer really with heat getting up to 30+ in the heat of the day.
Long Sleeved Tops
Great to wear both at night, as mozzie protection (if you are like us…not big fans of mozzie spray!), and also during the day. If you choose natural fibers then, during the heat of the day, you can roll the arms down to protect from the sun…
Trousers
On the whole these are best for the evenings, when mosquitos come out and the temperature drops a little. Can also be useful for visiting some of the more strictly Muslim areas of the country, such as Stone Town in Zanzibar where it is advisable to cover up.
Closed Shoes
Definitely recommended if you are keen to do a couple of walking safaris while out there. It is not necessary to having full walking boots as the walking safaris are conducted at a leisurely pace…but you may want running shoes!
Suntan Lotion
Again, a no brainer. Definitely worth packing some factor 50 as, in the heat of the day, the sun really is strong.
A Few Swahili Phrases
Take a look at our brief guide to Swahili. As avid travelers ourselves, we really believe that the more you can integrate into the local community the more you will get out of it….and there is nothing like the look on a guide's face when you greet him with a friendly "Jambo"…he will be your best friend!
Basic First Aid Kit
While it is not necessary to pack a long list of lotions and bandages, as most of the lodges have it anyway, here are a few things we travel with that make things a little easier; plasters, antiseptic cream, anti-histamine cream, electrolytes, mosquito-repellent.
Hair dryers, shampoo, soap?
We are often asked if things like hair dryers and shampoo and other toiletries are needed and, in most cases, the camps and properties provide these things free of charge. It is also worth noting that, as laundry is easily possible and, again, normally free, this can help hugely in keeping the packing list shorter than you might normally.
Please bear in mind that Zanzibar and parts of the mainland are Muslim and, as such, when visiting villages or wandering around Stone Town it is respectful to cover up properly with long sleeved tops and trousers/long skirts for women.
Gorilla trekking packing list 
Booking your gorilla trekking experience through a specialist tour operator ensures that every little detail is taken care of - from the moment you first enquire, to the minute you land back home. With your gorilla permits, transport and accommodation all booked in advance, the only thing for you to do before your adventure with the mountain gorillas, is to pack. Gorilla trekking is a trip like no other, and with that in mind, we have put together a short packing list to make the experience safe, comfortable and most of all, perfect!
Walking boots
The Virunga Mountains are made up of many extinct and active volcanoes, covering the countries Rwanda, Uganda and the Democratic Republic of Congo. Although the landscape varies across the Virungas, it is predominantly occupied by bamboo and montane forest, so trekking through this dense and thick vegetation can be, at times, quite tough! As a result, light weight walking boots are a necessity and will definitely make the hike easier and more comfortable for you. I would also advise wearing your walking boots in a few weeks beforehand – new boots can sometimes feel quite stiff and may cause blisters or other pain.
Waterproof/ windproof jacket
As a tropical forest, the weather in the Volcanoes National Park can be temperamental so a rain jacket or a light poncho is definitely recommended. The rainy season (April and May) can be very wet so waterproof trousers, jackets and rucksacks are advised but generally during the dry season (June to October), a lightweight waterproof jacket should be fine.
Thick garden gloves
Trekking through the Virungas can be a challenge at times, with slippery surfaces and dense vegetation to walk through. Wearing gloves protects your hand from any sharp vegetation and stinging plants that may scratch your hands, as well as supporting you if you fell during your hike at any point.
Water and light snacks
A gorilla trek can be anything from 45 minutes to 7 or 8 hours, depending on the location of the gorilla family you are trekking for. It is important that you are healthy before doing a gorilla trek, but no matter how physically fit you are, carrying a couple of energy bars or snacks is a good idea in case you become tired during the day. The lodge you are staying in at in the Volcanoes National Park will provide you with a packed lunch and plenty of drinking water, which can be carried by a porter if you decide to hire one for the hike.   
Long sleeved clothing
As mentioned, the vegetation in the Virungas is dense and the plants are wild and sharp. Long sleeved clothing not only protects you from the sun, but will also help prevent insects getting in your clothes and to your skin. A sun hat and a pair of sunglasses are also a good idea, especially if the weather is warm and humid.
A porter
Ok so you can't technically pack a porter with you, but hiring a porter for your trek whilst you are in Rwanda, is highly recommended. For a small fee, a porter will carry any equipment you want to take on the hike – camera equipment, spare batteries, food and water, extra pieces of clothing, the list goes on. It is not uncommon for many of the porters to be ex-poachers, who have been persuaded to put down their weapons and support efforts to protect endangered mountain gorillas in the Volcanoes National Park.
Camera equipment/ binoculars
Although the flash must not be used, photography is allowed and encouraged during your time with the gorillas. Before your trek, you will be briefed about the safety of taking photographs, such as the distance you should maintain and things to be aware of whilst getting the perfect shot. Whilst getting a memorable photograph (especially the ultimate selfie with a silverback) is high on the list, we would encourage you to step aside from the camera every now and again… the one hour you get with the gorillas does fly by, and watching them with your own eyes, aside from the lens, is completely humbling and mesmorising!  
Further reading...